2016-05-10
An event dedicated to 93rd birthday anniversary of National leader Haydar Aliyev was held in Batumi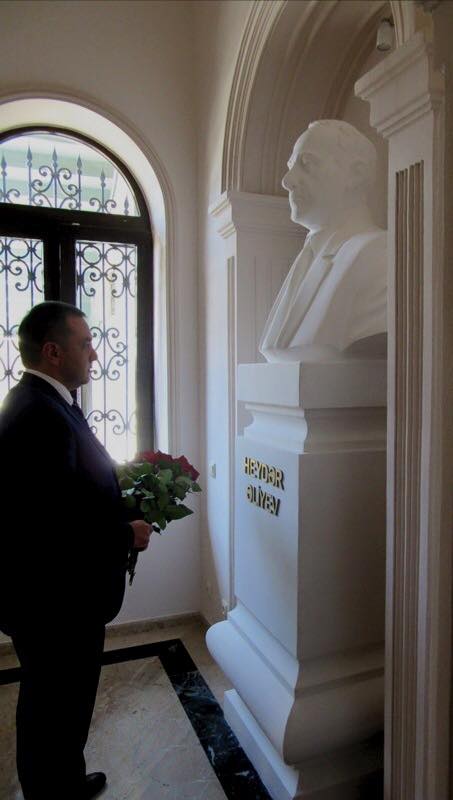 An event dedicated to 93rd birthday anniversary of National leader Haydar Aliyev was held in Consulate General of Azerbaijan Republic in Batumi,May 10.
The event began with putting flowers in front of H.Aliyev's memorial bust erected in ConsulateGeneral and a minute's silence in his memory.
Consul General Rashad Ismayilov met 30 students studying in Batumi State University International law and International Relations faculty and made a speeech about H.Aliyev's brilliant socio-political activity in Azerbaijan history
After this "Azerbaijan Center named after Haydar Aliyev"has been opened in Batumi Shota Rustavelli State University.Welcoming participants of opening ceremony Consul General Rashad Ismayilov spoke about H.Aliyev's services in strenthing Azerbaijan state and noted that in the result of his efforts Azerbaijan occupied its rightful place in the world community.Empahisizing H.Aliyev's role in solving problems facing the country in the aerly 90's of last century,establishing balanced foreign policy Consul General said that development strategy founed by H.Aliyev made Azerbaijan as leading country in the region.
Consul General R.Ismayilov stressed the importance of "Azerbaijan center named after haydar Aliyev" and said that it would be very important for learning Azerbaijan's history,culture and literature by the students of Batumi State University.
Avtandil Berridze,the chairman of Supreme Council of Adjara Autonomous Republic spoke about H.Aliyev's legendary role for people of Azerbaijan.
Avtandil Beridze,the chairman of Supreme Council and other officials,Education,Culture and Sports Minister of Adjara Autonomous Republic Gia Tamasihvili,mayor of Batumi George Ermakov,employes of Consulate General of Turkey and Iran Islamic Republic,rector of Batumi State University,employees of Adjara Autonomous Republic goverment and ministers,"Socar-Georgia"company,ant other intelectuals and members of Azerbaijan community attended at the event.
Following the speeches a film dedicated to H.Aliyev's life and political activities was shown.
The event hold in Batumi was demonstrated on "Adjara TV" channel. http://ajaratv.ge/news/ge/887/haidar-alievis-sakhelobis.html